Construction on the new West End Baptist Church building is coming closer and closer to completion. Our teams have ordered furnishings for the classrooms and lobby areas, appliances, signage, and a wonderful new coffee maker, all in anticipation of making our new home an inviting and friendly place to worship and serve the Lord.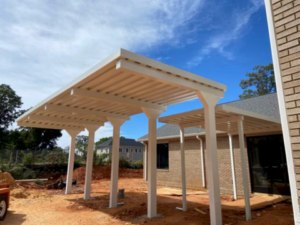 The new building exterior is almost complete, including the canopies for our drop-off area. Paint is on the interior walls and bathroom tile is being installed. Take a look at the progress report from WM Jordan below:
PROGRESS TO DATE
AFD Construction completed installation of the ceiling grid, interior trim, and removal of temp wall.
Johnson Electric continued installing light fixtures and also coordinated with Duke Energy on final power install.
Thomas Mechanical set the condensing units and worked on final tie-ins.
East Coast TVM installed the exterior canopies.
Alpha Omega installed the gutters and downspouts.
Tharp Plumbing set out the fixtures.
Duke Energy reinstalled the final power line in the correct location.
City Glass completed caulking of storefront and curtainwall windows.
Please continue to pray for everyone involved in making our move back to the West End. Thank you for your support!