Walking down Arlington Avenue on a crisp September morning, you'll see the new building for West End Baptist Church is coming along wonderfully! The brick is finished, and the upper board and batten is nearly all installed and will be ready to paint soon. Inside the remodeled building, the walls are waiting for their final coat of paint, while doors, lights, appliances, and fixtures still need to be installed.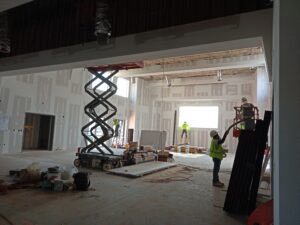 The new building has much of the drywall completed as well as electric, plumbing, etc., and the main room (sanctuary) is going to be great! Members will soon be able to enjoy a worship center and as a multi-purpose room, with plenty of space and versatility. Take a look at the progress report from WM Jordan below:
PROGRESS TO DATE
AFD Construction continued hanging drywall and began taping and finishing.
AFD Construction began framing the storage platform in room 102.
Johnson Electric began pulling wire in the sanctuary, installed the main panel interior and grounding for the main service.
Thomas Mechanical worked on the duct to return grille for AH-2 and re-routed the refrigerant piping for access to the filter rack.
Addison Fire began pulling fire alarm wiring.
McGee Brothers completed the brick install.
SEC Exteriors began installing the board and batten exterior siding.
If all goes as planned, we will be able to worship in our new building by the end of this year. Please continue to lift us up in your prayers, praying especially for our wonderful construction crews and project managers, and that supplies will continue to be shipped and delivered on time. Pray that God be glorified as we worship and serve Him and our community from our new home on Arlington Avenue.