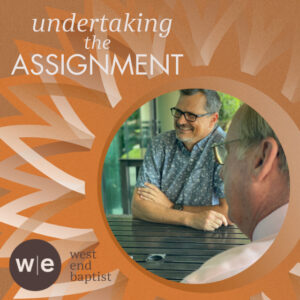 Saturday is a chore day for me. Suzanne typically has several items on her "honey do" list, and I have more than I care to think about on mine. We usually kick off the day by discussing our goals and what we want to accomplish. Although this may seem like a simple routine, when we skip it and Saturday evening rolls around, it's challenging to gauge whether it was a productive day or just what my Dad used to call "piddling around." While leisurely days have their place, if they become a pattern, my house, yard, and vehicles start to look abandoned. I like how the NLT translates Proverbs 13:16, "Wise people think before they act; fools don't—and even brag about their foolishness." 
Our current sermon series, "Understand the Assignment," has been instrumental in clarifying our mission: Making Mature Disciples. This means investing in people's lives to help them mature in their relationship with Jesus. We certainly don't want to stand before Him with the disheartening realization that we've spent our time piddling around rather than nurturing mature disciples. It's not enough to comprehend our assignment; we must act upon it.
I admit I've been putting off some chores for a while now, particularly one major task that seems daunting. I anticipate watching numerous "how-to" videos on YouTube in the near future. According to a recent survey, only 28% of American Christians are actively involved in either discipling someone or being discipled. The primary obstacle people cite for not making disciples is feeling unqualified or ill-equipped. I am sure all of us feel that way at times. This month, we are shifting our focus from understanding to assignment to "Undertaking the Assignment." As we study the Gospels and epistles, we will learn how to identify potential disciples, what steps to take when we find them, and when it's time to release them. I look forward to us all being equipped together as we search the scriptures and put them into practice. 
Last Saturday was a fulfilling day on several fronts. USC beat MSU (Go Gamecocks!), and we enjoyed grilled pork chops with black-eyed peas and corn for dinner. I could truly relax and enjoy these moments because I had completed my chores for the day. One of the things that stands out to me in our study from 1 Thessalonians is how Paul continually directs our attention to the return of Jesus, or as he puts it, the coming of the Lord Jesus. There is a day on the horizon when we "will always be with the Lord" (1 Thessalonians 4:17b), and we will enjoy rest in His presence. Until then, "… may the God of peace himself sanctify you completely, and may your whole spirit and soul and body be kept blameless at the coming of our Lord Jesus Christ. He who calls you is faithful; he will surely do it." (1 Thessalonians 5:23-24).
Marty Price
Pastor